ACCESSORIES & MARQUEE EQUIPMENT... those little touches
We can arrange all this for you...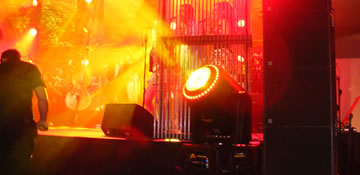 As part of the package we can light up your marquee to make it look funky and special. Try our starlit ceilings in black, and now ivory, that twinkle above you. Our beautiful double-tier chandeliers can be dimmed to create your own special ambience and the perimeter wall linings can be fitted with white light or coloured filters to give fabulous splashes of colours up the walls. Our pin spots will highlight each table centre in a pool of white light and our par cans down lights will add atmosphere with a vast array of colour to bar and chill out areas. We can also offer external and emergency lighting. For something really special our partners can provide entertainment & mood lighting and even a pyrotechnic display to create a really classy and memorable event.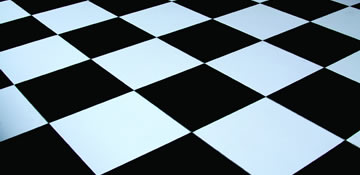 Get into the party atmosphere with polished antique parquet or black and white dance floors. LED and mirrored dance floors for a bit of extra groove can be sourced easily to order.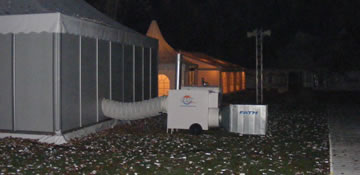 Keeping your guests comfortable and at the right temperature is what we do. Our range of oil fired thermostatically controlled blower heaters are just the job for a warm and cosy venue, especially in the depths of winter when it's -10 degrees outside!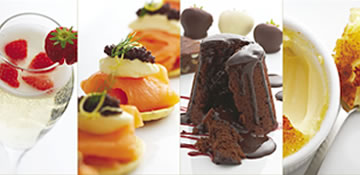 Bringing all the elegance and exclusivity of a superb restaurant to your marquee with skilled chefs, the finest ingredients and wonderful service to create the ultimate gastronomic experience. Delicious served dinners & lunches, buffets, canapés, barbecues, hog roasts, chocolate fountains and hand crafted desserts. We work with the best caterers for every requirement and budget.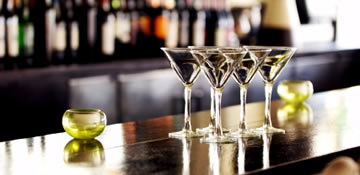 With our partners, we can supply and run the drinks service with stylish bar units, cocktail bars, pay bars with professional bar staff at your service saving you time, money and hassle.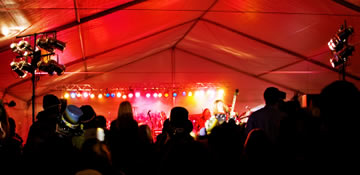 We can provide various sizes and heights of stage for your bands, DJs and other performers.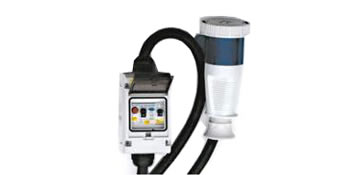 During our site visit we will be able to determine how the power can be supplied either from the building mains inlet or via a generator both of which we can arrange for you.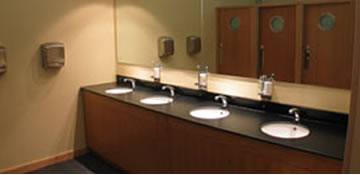 Hosting your event outdoors in a marquee need not mean that you won't have all the luxury and comfort of an indoor bathroom. We want your guests to remember the event, not the amenities. In fact we can arrange any type of conveniences for your event.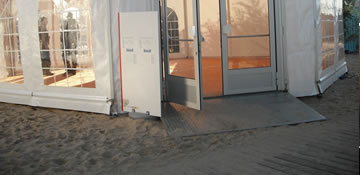 For many marquee sites our interlocking wooden floor is fine, but if you are worried that your marquee site is on a gradient or a bit uneven then don't worry. Our German engineered levelled floor systems will allow us to build your marquee on most types of terrain giving you a smooth, flat and safe floor inside. This will impress your guests, especially the more technically minded.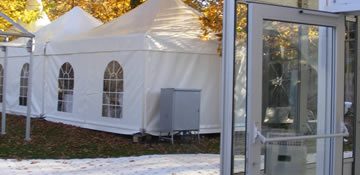 Our portable anodised aluminium double doors with glazed window panels make your already substantial structure seem even more like a building for an extra touch of class and luxury. Also emergency exit doors are available to help comply with all relevant health and safety regulations.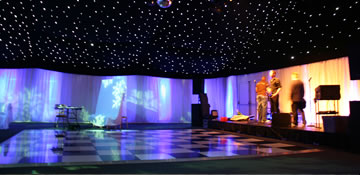 Starlit ceilings in black, and now ivory, cloth will add an extra special touch and 'Wow' factor for your guests. We have a range of linings in mid ivory and black-out which can be colour themed to suit your event. Or you could just keep things neutral. We can also arrange 'tack off' and flat white linings for a fresher and more contemporary look. In addition, our new reveal curtains will create a real buzz when the entertainment kicks off.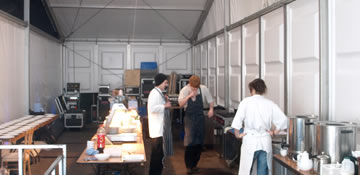 Of course the chefs and kitchen assistants will need somewhere to work, perform their craft and store crockery, etc. So when it's a catered event we normally build an area that is connected to your marquee but unseen by your guests by way of a system of baffle screens. This will be lit, powered and have independent access for all catering and service staff.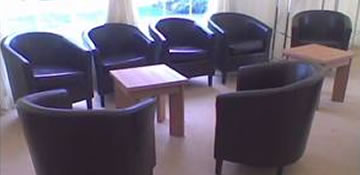 Whether it's garden and bar furniture, banquet chairs, tables, leather and wicker sets for the chill out areas we offer the complete package to save you time and hassle.